A Blueprint for Certain Growth in an Uncertain World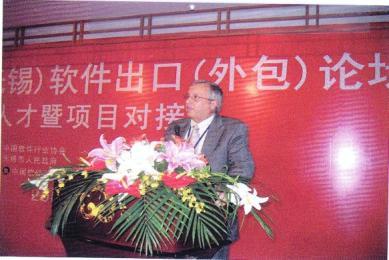 We will bring the creative edge to your outsourcing needs
By Michael K. Bender, Infinit Software Solutions
Nearly every country and business sector has been affected by the current economic crisis. At the same time, companies are adjusting to the "new economy" and realigning resources to meet future opportunities and challenges. Outsourcing will continue to play an important role in the growth of economies whether in government or the private sector. While outsourcing has become very competitive between countries and companies, there are a few important strategies that can help facilitate small, medium and large size outsourcing companies expand globally, despite the current economic downturn. Key growth factors are credibility, pricing, communications, quality, image, flexibility, presence, targets of opportunity, innovation and image.
Credibility
There are a number of ingredients for effective development of credibility. Potential customers will judge their outsourcing partners based on their own organization. An outsourcing partner must demonstrate that their organization has low employee turnover, an enthusiastic staff, a clear understanding of their customers' requirements, knowledge about potential competition as well as the customer's products and services and regulatory requirements. This knowledge should extend to domestic and foreign markets. International certification attesting to organizational capability and adherence to standards is mandatory as is the ability to demonstrate protection of intellectual property rights. Software used in development must be properly licensed. Participation in organizations such as local, regional and national Chambers of Commerce and in organizations such as technology councils and outsourcing organizations will demonstrate a serious effort to achieve excellence. Ultimately, trust in a distant relationship is critical before any of the other factors but all will contribute to building that trust.
Pricing
Having the best price and the lowest price are not the same. The best price will be determined by all the factors discussed here but, no matter what, must be determined by costs and client budgets. The case must be made to justify pricing; not because the competition is the same or a little higher but because the customer will benefit from the best product, best development time and a partnership will develop that will create additional mutual opportunities.
Communication
In today's age of the Internet, there is a tremendous dependence on email as an acceptable alternative to face-to-face communications. Email is also seen as an inexpensive alternative to travel. Unfortunately, few businesses handle single product or services lines and impersonal contact can result in a short term relationship. There are plenty of examples of the impact of travel and face-to-face meetings and discussion of appropriate communications. Good companies not only welcome but demand this type of company follow-up; without it, usually time erodes the relationships as new product lines and opportunities present themselves.
Quality
Customer satisfaction is the goal of any business relationship. Price without quality will not result in future business for either party. To achieve that, not only are human resources critical but processes and procedures for maintaining quality control are essential and they must be maintained for as long as the relationship exists. Keeping up with domestic and international standards is crucial as there is little margin for error in this arena. Documentation must be timely and orderly; there are no shortcuts.
Flexibility
Small to medium sized businesses that are growth oriented are always looking to expand their markets. However, they frequently have limited to no presence abroad. Who would know their own country better than a new outsourcing partner? As part of the offering of services and products, consider offering to assist in working as a local partner with connections or advice to establish a true strategic partnership which would allow for additional revenue for both parties and offer the opportunity for the development, customization and localization of products.
Presence
Most executives realize the importance of local presence. However, that can be expensive but so too is the alternative. Today, it is possible to maintain a local presence for minimal cost almost anywhere in the world. Consider adding a local credible national who can handle the liaison using these resources thereby enhancing a local presence and providing confidence to far-off customers who can be in contact with a trusted representative. When selecting a representative, try to utilize a local national who the customers will identify with; this will increase their confidence, believing that the company has selected an objective liaison. This will minimize concerns, globalize an outsourcing firm's reach and minimize multiple points of contact and streamline communications.
Targets of Opportunity
There is a natural tendency to target the large multinational companies. It is understandable but is it achievable in the short run? In addition, over reliance on one customer could be disastrous if that customer chooses a competitor for future work. Having a number of smaller clients will minimize the impact of client loss. By way of example, in the United States, small firms with fewer than 500 employees represent 99.9 percent of 24.7 million businesses, while there are 17,000 large businesses. Small businesses, while not all are appropriate for outsourcing, are the most likely candidates for outsourcing opportunities since they can minimize overhead, expand services and have access to expertise they could not otherwise afford.
Innovation
Chances are that a good outsourcing provider will have expertise in their client's products and services. While diplomacy is required, clients will appreciate any insight into how their product or service can be improved, how it could be localized as well as competitive insights. Such innovative contributions will increase the strength of any outsourcing relationship building a solid foundation for a long relationship not simply confined to the project at hand.
Image
Many companies overlook the need to develop an image which fits the customer and, instead, ask friends and colleagues to help with an image, often producing brochures, stationery, business cards and letterhead based on local preferences. In addition, translations are often literal and lose meaning in the target market. There are now companies which product stock professional layouts for all of the above for just a few hundred dollars. There is no need to spend much more except on professional translation which is expensive if done right. However, if done wrong, clients will question the ability of a provider to get the project(s) right because they will be language based.
Summary
Maintaining viable companies and growth in an economic recession is not an easy task. However, in the current economic client, outsourcing is a very effective means for achieving what seem like unattainable goals due to resource limitations. Outsourcing providers have a unique opportunity to grow their own firms by offering client's products and services that will help them grow. Today's customers are and must be more discerning about their "partners," and it is the task of the outsourcing providers to demonstrate how a relationship can be mutually advantageous and a positive solution for the marketing challenges we face today. By understanding and implementing the key factors necessary to separate the wheat from the chafe, small and medium size outsourcing providers can be profitable and visible in a global market.